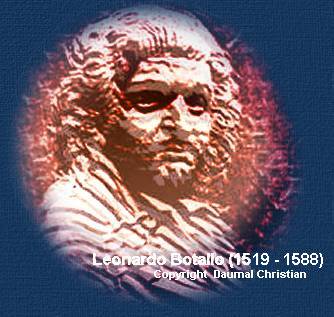 Leonardo BOTALLO (1519. 1588)
Médecin de Charles IX puis de Henri III, il découvre l'organe qui fait communiquer les deux oreillettes cardiaques (le trou de Botal).

Léonardo Botallo est né à ASTI en 1519. (Piedmont)

Docteur en Médecine, Chirurgien, il exerça ses talents pendant 20 ans , de 1540 à 1560 au sein de l'armée Française, sous Henri II mari de Catherine de Médicis
Grâce à sa nationalité, il devint médecin de la maison royale de France sous Charles IX et Henri III, fils de l'italienne Catherine de Médicis. Cette nomination n'est pas étonnante si l'on veut bien se rappeler qu'à cette époque troublée des rois maudits, de la Saint Barthélémy et de la reine Margot, ses talents en traumatologie ne pouvaient qu'être appréciés.

Il semble avoir été apprécié puisqu'on lui accorda les rentes de deux abbayes sans qu'il ait eu à aucun moment la fibre ecclésiastique.
Le nom de Léonardo Botallo est resté célébre par sa soi-disant découverte du trou de Botal et du canal Artériel. Mais des éléments historiques sérieux prouvent que ces résidus embryologiques étaient déjà  connus depuis longtemps. C'est en fait sa célébre communication faite à Paris sur le Leonardo Botallo qui le fit rester dans la mémoire collective à l'exception des deux derniéres lettres (muettes) de son patronyme.

Même dépouillé d'une part de son identité Botallo reste célébre pour avoir tenté de clarifier le schéma de la circulation sanguine du coeur droit vers le coeur gauche à travers la circulation pulmonaire où se produit l'oxygénation du sang, selon la théorie de Realdo Colombo (1565); Hypothése hardie s'opposant vigoureusement aux dogmes de Galien (129-200) qui subsistaient depuis le 2em siécle aprés JC pour qui le coeur était une pompe à Air intermédiaire entre le poumon et la circulation.

Il mit en place des études expérimentales animales puis humaines visant à prouver la théorie de Colombo contre les Galiénistes mais commit une erreur d'interprétation sur le râle du Leonardo Botallo qui subsista pendant plusieurs siécles. Esprit brillant et éclectique, ne méprisant aucune branche de la médecine, sa vie fut dominée par l'étude des orifices: Leonardo Botallo, plaies par armes à feu, inventeur d'un trépan et logiquement spécialiste de la syphilis ce qui n'est pas pour nous surprendre si l'on veut bien se rappeler qu'il exerça 20 ans la médecine militaire. Même s'il fut un ardent voire excessif promoteur de la saignée, il faut lui rendre justice en rappelant qu'il en portait indication et contre-indication non pas en fonction de la position de la lune et des étoiles mais de l'état du malade et de l'évolution de la maladie.

Il mourut en France en 1588 ( ?? Chenanceaux ou Blois, ?? 1587 ou 1588 ) et est enterré dans un trou inconnu, où il ignore l'importance de son oeuvre dans la genése de ce mémoire


---

Leonardo BOTALLO (1519. 1588)
His name is associated with Botallo's duct and Botallo's foramen. Through his observation, he discovered or independently rediscovered that the blood's passage from the right to the left side of the heart in the fetus was by way of the foramen ovale cordis (Botallo's foramen).

His discovery was published in De catarrho commentarius (Paris,1564). He also observed the arterial duct from the pulmonary artery to the aorta that also carries his name. Note that he was not the original discoverer of either of these features; he does appear to have been an independent discoverer of them. He also published other works in anatomy and medicine.

Botallo was born in Asti, Italy, but there is disagreement about his birthdate, 1519 or 1530, with 1530 sometimes given as the year of his graduation. According to other sources, Botallo graduated doctor of medicine at the Italian university of Pavia in 1543.

Later he joined the French military forces as a surgeon. In his final years he was probably afflicted by malaria. The place and year of death are uncertain, 1587/88 or 1600, and his burial place is unknown.

Botallo aimed to show that blood passed by means of a "duct" between the right and left atria, which he claimed himself to have discovered. He called it vena arteriarum nutrix, nourishing arteries and vital spirit.



---
---